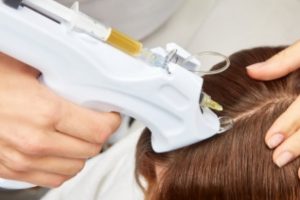 Dr Brad is highly skilled in delivering Platelet Rich Plasma (PRP) scalp injections to promote the regrowth of hair that is thinning or has been lost due to age, illness or genetics in both men and women.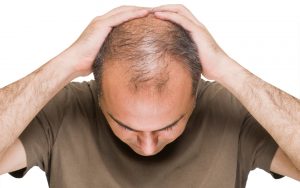 There are a variety of causes for different types of hair loss and Dr Brad will discuss these with you during your face-to-face, one-to-one assessment.
What is PRP Treatment?
PRP injections are a modern non-surgical treatment for hair loss and a growing body of published, peer-reviewed scientific research supports its use and effectiveness. They work best for male pattern hair loss, female pattern hair loss, alopecia areata and may also be useful in telogen effluvium. A doctor with an interest in the scalp and hair loss should diagnose your hair loss. In practice and in studies, PRP injections have been scientifically shown to produce clinically and statistically significant improvements in subjective and objective hair growth and quality for the majority of patients although this must be caveated with the statement that treatment success, as with many things in medicine, can unfortunately never be 100% guaranteed.
Dr Brad has been formally trained, assessed and certified in the UK by leading specialist surgeons and is fully qualified and insured to undertake your treatment.
Listen to what Dr Brad has to say about PRP treatment for hair loss.
Here's a video demonstrating PRP for hair loss featuring a PRP hair loss pioneer from the USA, Dr J Rappaport, who uses the same equipment as Dr Brad.
Platelets and the Cellenis PRP System.
Platelets are the blood cells that are responsible for healing and tissue repair. Using the advanced Cellenis Tropocells PRP preparation system Dr Brad draws a small 22ml blood sample from your arm before processing it in the official Cellenis centrifuge and patented thixotropic gel separation system to produce a highly pure PRP ready to use in your treatment. Just one 10 minute "hard spin" and the product is ready without any out-dated requirement to "activate" the PRP by adding chemicals to it! The second step disc filtration system all but eliminates any undesirable stray red or white cells from the preparation. This modern system is entirely "closed" and "no-fuss" making it essentially impossible to accidentally contaminate the PRP before administering it. The market-leading Cellenis system can achieve platelet concentrations 10 times that of normal blood and Dr Brad believes it to be far superior to the 30 or so other PRP preparation systems on the market! In just one typical treatment session, Dr Brad will inject 3.2 and 6.4 billion live platelet cells into your scalp.
It is important to note that, in addition to competent and appropriate patient selection, the success of PRP treatment is both technology dependent and technique dependent. Dr Brad has the best technology in the Cellenis system. Dr Brad is also highly skilled in the safe and accurate administration of PRP injections, which is undoubtedly a painstaking and delicate procedure to deliver the PRP into just the right layer of your scalp skin and is not for novice injectors. Dr Brad uses very thin needles for accuracy of injection and your comfort.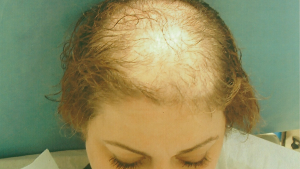 Before The Procedure.
You'll be asked to have washed your hair before you attend for treatment. Dr Brad will take clinical photographs before numbing your treatment area with either topical anaesthetic cream or injectable local anaesthetic nerve blocks, depending on your preference, before cleaning the scalp area thoroughly with antiseptic solution. Chilled air is also available for anaesthesia if required or preferred.
The PRP Hair Restoration Treatment Regimen.
1) One PRP treatment a month for three months is recommended for best results. Some people report an improvement in growth in just 4-6 weeks although others will wait 3-9 months before seeing the best results. Results can improve up to 12 months after starting treatment. Booster PRP treatment sessions can be delivered monthly or 3-4 monthly depending on patient response, commitment and preference. Ongoing maintenance treatments 1-4 times a year may be required for optimal long term results.
2) Dr Brad strongly recommends that both men and women also consider treating their scalp at home with Dr Brad's Hair System, 1ml twice a day during and for at least 6 months after treatment for best hair re-growth results.
Note: Dr Brad's Hair System products are preferably not to be applied to the scalp for 24 hours before a PRP treatment or for 24 hours after a PRP or microneedling treatment. A smaller needle "home use" microneedling roller can also be supplied for use twice a week with Dr Brad's Hair System throughout your treatment for the safe enhancement of product absorption.
Pricing.
Unfortunately, it is not easy for patients to compare prices between different PRP providers because the quality of the technology used varies, preparation methods and concentrations generated vary widely as does practitioner competence, reputation and qualification.
The price of your initial face-to-face consultation is our standard £60, during which you'll discuss your medical history with Dr Brad and you'll choose the protocol that's right for you.
The price of one PRP hair restoration therapy session is £399.
The recommended course of a minimum three PRP hair restoration therapy sessions is £1097 (save £100).
Compare that to £30-40,000 for hair transplantation (think "Wayne Rooney"), and I think you'll see that represents good value for money and the opportunity to avoid surgery.
–
HairMax Laser Treatment Upgrade
Why not enhance your treatment by adding a genuine HairMax laser therapy session to your session for just £22.
Treatment is safe, painless and has been scientifically shown to be effective.
(10% off with any package of 3 HairMax sessions alongside PRP).
AQ Hair Complex Plus Solution Upgrade
Add AQ Hair Complex Plus solution to your scalp after each PRP treatment, rich with human hair follicle growth factors to further promote hair growth for just £30 per session.
–
Want to see the benefits for yourself?
Contact us now for your consultation to take the exciting first step in your hair restoration journey.